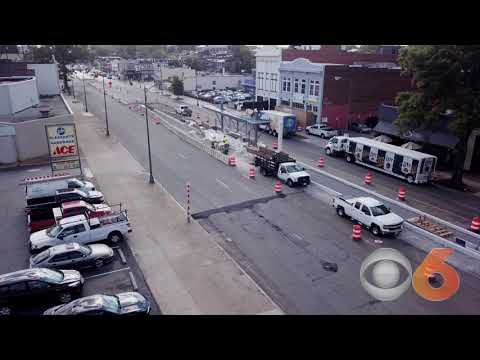 RICHMOND, Va. – Almost 500 days have passed since the GRTC Pulse (Bus Rapid Transit) project broke ground in August 2016.
Close to 50 people attended a community meeting Wednesday at the Broadberry,  where leaders announced that GRTC hopes to begin testing routes on April 1.
When testing starts, some barrels and construction will be removed and transit-signal lights will be tested. This  phase includes outreach and signage in addition to observation and testing.
GRTC needs 90 days to test routes, they said, and on that timeline, a July 1 launch is possible. Contractually, the project must be done by June 30, 2018. They could finish earlier.
Ten new 40-foot buses running on compressed natural gas will operate along the route when it is complete. The modern buses will have 38 seats as well as room for 15 standees. Bike capacity in the front will be slightly increased to hold three.
There will be 3.2 miles of dedicated bus lanes over the 7.6 mile route that stretches from Rockett's Landing to Willow Lawn. The buses will run every 10 minutes during peak hours and every 15 during off-peak hours. There are 14 station locations; five median and nine curbside.
In the fall the project gained speed as construction moved above ground, according to Carrie Rose Pace, Director of Communications. Recently, close to 50 crews have been working day and night, according to Rose Pace.
"Most of the work that you saw last fall through this year was a lot of utility work, making sure that underneath was ready to go — and now that we've got all that taken care of, we are able to do all of the above ground work," Rose Pace said.
Continue reading on WTVR.com.